2. Trees and shrubs provide privacy and a long season of interest
The design we created divides the lot into distinct sections, each of which serves a specific function. They are connected by axes linked directly to windows of the principal rooms on the south side of the house. Since privacy was of the utmost importance to these clients, we developed a series of defined spaces, each with a strong sense of enclosure. This treatment provides a series of intimate spaces and makes the garden feel larger. Visitors strolling through the garden will experience a sense of discovery as they move from area to area. Every space has a distinct feeling, whether it's a change in color scheme, a different paving material underfoot, or simply a new palette of plants. Each garden space has a mixture of fast-growing shrubs which will rapidly provide screening each spring. We envisioned using these multilayered spaces as a baffle for neighboring views.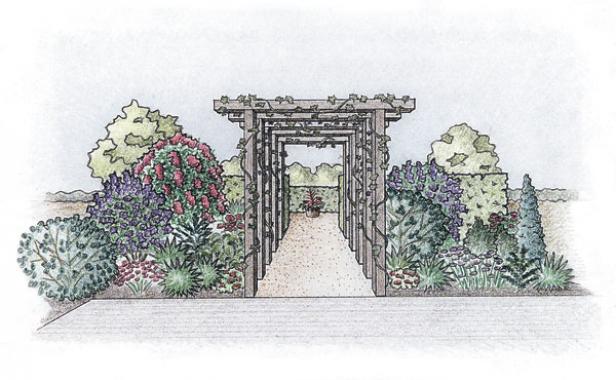 The plan view shows the geometry of the garden areas, which make use of strong lines that accentuate the axes and give much form to the garden. After all, in a temperate climate where garden-related activities cease for nearly half the year, a strong outline of garden shapes provides interest and structure for those many months the garden is dormant.
Areas for entertaining are located near the house. One is a large stone terrace which both the kitchen and dining room open on to, so serving is easy. Around the terrace, summer-blooming shrubs form a screen of flowers and foliage which serves to hide views of neighboring houses. The flower gardens near the house are orchestrated to peak at the height of the summer, when outdoor living is most popular. From here, a pergola shaded by vines provides a shadowy tunnel leading to the adjoining room and creates an axial view focusing on an elaborately planted container. The pergola also serves as an aerial screen to make the dining terrace more intimate.
Another distinct space is the privet-enclosed room. Deliberately void of flowering plants, except for the container, this space gives contrast by virtue of its spare simplicity, and provides a restful diversion from the cacophony of colour nearby. This is a space for outdoor dining, sunbathing, reading, or just lounging. The fast-growing privet hedge can be clipped and trimmed to achieve a wall-like effect that would afford even more privacy.
The back garden provides yet another layer of screening while offering space to grow unusual trees and shrubs. All of the mixed shrub borders have perennials incorporated into them to extend the flowering season and to create dynamic and ever-changing floral tapestries.
Plants for a naturalistic garden


WOODY PLANTS
Ag: Acer griseum
Am: Dutchman's pipe ( Aristolochia macrophylla )
Bd: Butterfly bush ( Buddleia davidii 'Dartmoor')
Ca: Clethra alnifolia 'Hummingbird'
CaE: Redtwig dogwood ( Cornus alba 'Elegantissima')
Cd: Beautyberry ( Callicarpa dichotoma )
Cj: Katsura tree ( Cercidiphyllum japonicum )
Cl: Yellowwood ( Cladrastis lutea )
Co: False cypress ( Chamaecyparis obtusa 'Fastigiata')
Cm: Clematis maximowicziana
CmG: Cornelian cherry ( Cornus mas 'Golden Glory')
Cp: Sweet fern ( Comptonia peregrina )
CsS: Red osier dogwood ( Cornus sericea 'Silver and Gold')
Cv: Clematis viticella 'Etoile Violette'
Dc: Daphne caucasica
FW: Forsythia 'Winterthur'
Ha: Hydrangea anomola var. petiolaris
HqS: Hydrangea quercifolia 'Snow Queen'
HyG: Hydrangea paniculata 'Grandiflora'
Ic: Japanese holly ( Ilex crenata 'Sky Pencil')
LG: Woodbine ( Lonicera periclymenum 'Graham Thomas')
Lo: California privet ( Ligustrum ovalifolium )
RP: Rhododendron 'PJM'
Sj: Japanese skimmia ( Skimmia japonica )
SrS: European red elder ( Sambucus racemosa 'Sutherland Gold')
St: Thunberg spirea ( Spiraea thunbergii )
ToP: Oriental arborvitae ( Thuja orientalis 'Pyramidalis')
ToS: Arborvitae ( Thuja occidentalis 'Smaragd')
VdE: Viburnum dilatatum 'Erie'
HERBACEOUS PLANTS
Gl: Gaura lindheimeri 'Siskiyou Pink'
Gm: Geranium macrorrhizum 'Ingwersen's Variety'
HP: Hosta 'Patriot'
HpG: Hosta plantaginea var. grandiflora
HS: Hosta 'Sum and Substance'
Ky: Kalimeris yomena 'Variegata'
KL: Red-hot poker ( Kniphofia 'Little Maid')
Pa: Fountain grass ( Pennisetum alopecuroides 'Hameln')
Ps: Patrinia scabiosifolia
PvC: Switch grass ( Panicum virgatum 'Cloud Nine')
Ss: Sedum spectabile
Vb: Verbena bonariensis
The cost of the stone terrace would be approximately £7500, the pergola £3800, the pea gravel £300, the containers £450, the garden furniture £1900, the soil preparation £2300, and the plants £2650. Being hands-on gardeners, the clients choose to do their own planting.
Since most of the shrubs are fast-growing, the clients could purchase smaller plants and use the money saved to buy larger, more mature examples of the slow-growing specimen trees in the planting plan. These showy woody plants will serve as important visual anchors and are integral to the design.
Two avid gardeners will be able to maintain this garden themselves. The plants chosen for the design are easy to grow and don't require anything special in terms of maintenance or care. Once the garden is planted, the only part that will require intensive work is the privet hedge, which will need to be sheared several times over the course of the growing season. Mulch would be used on all borders. This garden should knit together to create a satisfactory whole when the trees and shrubs mature three to five years after planting. After 10 years, when the mature garden provides even greater privacy, we would suggest removing the privet hedge. With minimal maintenance a goal as the clients age, this area could then be converted to lawn.
<< to be continued… Read more in our next blog post.